Have you ever wondered how to make your department more sustainable? The Green Impact Team at the CMS is working on exactly that.
What Is Green Impact?
Green Impact is a university-wide environmental accreditation scheme, encouraging staff and students within individual departments to make sustainable decisions. By setting specific goals through an online workbook, the scheme provides the framework for achieving a green impact. As extra motivation, teams can receive Bronze, Silver or Gold awards for completing a certain number of these actions.
Who Are We?
The Green Impact team at the CMS consists of staff members Angela Eastman (CMS Facilities Manager), Timothy Green (Senior Custodian), Hannah Fox (DAMTP Departmental Administrator) and students Leanne Durkan (Part III Theoretical Physics) and Maybritt Schillinger (Part II Maths), working together towards the Gold and Platinum awards this year.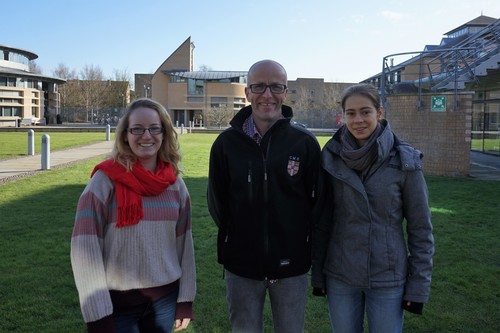 What Do We Do?
The goals are divided into different categories including Energy, Food, Procurement, Transport, Waste & Recycling, Heath & Wellbeing, Biodiversity & the wider community.
Last year, the team received both the Bronze and Silver awards. For example they clearly labelled food and recycling bins, provided an area for a second hand book swap and promoted fair trade coffee as well as use of compostable utensils in the department?s cafeteria.
Achievements
This year, the team has already planted several hundred bulbs around the site and have put up 10 bird boxes and bird feeders and created two log piles and they are looking to provide other small animal shelters on site to increase biodiversity. Ongoing work includes making sure lights and heating are not left on unnecessarily and looking to switching to recyclable coffee cups in vending machines, as well as longer term goals such as moving towards to energy efficient LED lighting in common room corridors and lecture rooms across CMS.
Events
They are also organising awareness events in the CMS core, and have already hosted an even on waster and recycling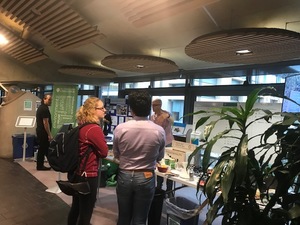 A more recent event at the CMS promoted cycling
Keep an eye out for the next one!
If you would like to join the team or have idea to share, you can email the team at cmsgreenimpact@maths.cam.ac.uk
For more information on Green Impact in Cambridge visit https://www.environment.admin.cam.ac.uk/green-impact