---
After the opening of pavilion E, the Faulkes Institute for Geometry, Dr Dill Faulkes (right) celebrates with Nick Corfield, whose name will appear on pavilions G and H when they have been completed later this year

Photo: Nigel Luckhurst
Photo: Louise Hall (July 2002).
Barry Uscinski was the pilot.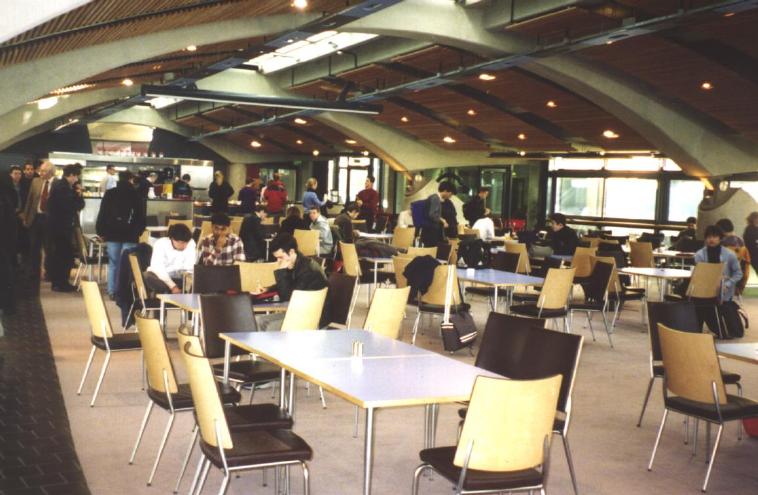 Staff and students in our main common room
---
Click HERE for a plan of the site and HERE for a map showing where it is.
Our postal address is
Centre for Mathematical Sciences
Wilberforce Road
Cambridge CB3 0WA
Click HERE for the archive of webcam pictures of the buildings as they were being constructed.
---
A warm thank you to those who contributed to the David Crighton Fund. There are some superb CDs of a concert given in David's memory: click
here
for details
---
If you would like to receive notice when the next issue is published, please send your email address to P.V.Landshoff@damtp.cam.ac.uk
---
Centre for Mathematical Sciences
"Cambridge's Faculty of Mathematics educates the largest and most able body of undergraduate and graduate students in the United Kingdom. It also houses the highest concentration of internationally acclaimed academics in the world. These are the people at the forefront of mathematical endeavour.
Owing to increasing student numbers and overcrowded facilities, we now urgently need to relocate our mathematicians to a modern site. A space worthy of their international acclaim, which will also enhance and enrich mathematics world wide. This has the highest priority."
Professor Sir Alec Broers
Vice-Chancellor,
University of Cambridge
---
The new Centre will comprise:
Together, these will form a concentration of mathematical expertise on one site which will be unequalled for its strength and quality across the whole spectrum of the mathematical sciences anywhere in the world.
The site is also home to the University's new
which is one of the world's major libraries for the physical sciences, technology and mathematics.
---
---
---