The University gave its formal approval to the project in June 1997, when work on the planning application was completed and detailed design work began. The Cambridge City Council approved the planning application on 7 January 1998, and in March 1998 the University authorised the Treasurer to accept a tender for the first phase of the construction within the available funds.
---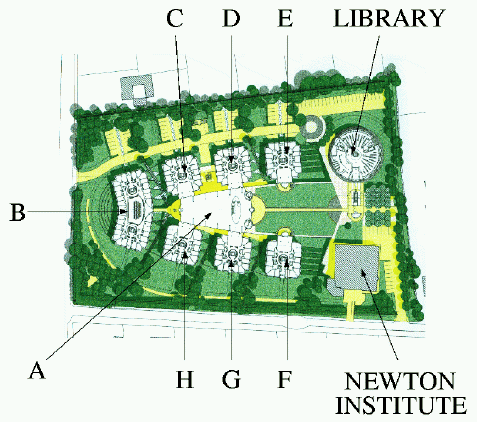 ---
Phase 1
The plan shows the design of the site, with the existing Newton Institute in the south-east corner. A ground-breaking ceremony took place on 4 April 1998, excavation began in June, and construction work in August. The double pavilion B, named after Marit and Hans Rausing, was completed in January 2000 and has been occupied by some 200 theoretical physicists and pure mathematicians. Pavilion D was completed in April and pavilion C in August 2000; together they house the remainder of the Department of Pure Mathematics and Mathematical Statistics. Each pavilion provides offices for research staff and research students. The central core, which was also completed in April 2000, is a common room, with lecture rooms and a fluid dynamics laboratory underneath.
Betty and Gordon Moore Library
The Library is part of the University Library, as well as being the departmental library for the two mathematics departments. It covers the physical sciences, technology and mathematics. Construction began in February 2000 and the Library opened in October 2001.
Dill Faulkes Gatehouse
The Gatehouse, which is situated at the main pedestrian access to the site, is part of the Isaac Newton Institute for Mathematical Sciences.
Faulkes Institute for Geometry
In addition to funding the construction of the Gatehouse, Dr Dill Faulkes has made another generous donation, towards the cost of an Institute for Geometry. This, together with further support from Nick Corfield, makes possible the construction of Pavilion E, due to be completed early in 2002.
Phase 2
Phase 2 will consist of pavilions F, G and H. These will house the remainder of the Department of Applied Mathematics and Theoretical Physics. Work on site will begin in February 2001 and they will be completed before the start of the academical year 2002.
Completion of the project
---
Those contemplating making a donation are invited to discuss it with Anthony Tootal, Acting Director of the University Development Office <ajt27@cam.ac.uk>, or with Professor Peter Landshoff <P.V.Landshoff@damtp.cam.ac.uk>. Advice for American citizens on tax-efficient giving to the University may be obtained from the Cambridge University Development Office in the United States <mail@cantab.org>.
---