What's New?
March 2003 The latest edition of Asymptopia, the Centre for Mathematical Sciences Newsletter, is now online.
October 2002 Edward Cullinan Architects win Contract Jouranal award for designer of the year and Cambridge University is client of the year
September 2002 The Latest edition of Asymptopia, the Centre for Mathematical Sciences Newsletter, is now online.
August 2002 Stephen Hawking's 60th Birthday lectures were televised on 5th to 8th August on BBC4. Audiovideo streams of the preceding four-day technical workshop are also available.
July 2002 Celebration of the centenary of the birth of Lucasian Professor Paul Dirac, Nobel Laureate and predictor of antimatter.
July 2002 The Newton Institute celebrates its 10th birthday
April 2002 Presentation of the Sprague salver
March 2002 Former DAMTP professor John Polkinghorne wins the $1 million Templeton Prize
February 2002 Plus, which is part of the Millennium Mathematics Project, has a special feature to mark Stephen Hawking's 60th birthday, which was celebrated at the CMS in January.
January 2002 Pavilion E, the Faulkes Institute for Geometry, is ready.
January 2002 Professor Peter Goddard is made CBE in the New Year's Honours List.
December 2001 The CMS becomes home to the National Institute for Environmental eScience
December 2001 The two mathematics departments receive top grading in the national Research Assessment Exercise
October 2001 The Betty and Gordon Moore Library is now open!
July 2001 The CMS becomes home to the Cambridge eScience Centre
July 2001 Plus wins a Webby Award which means that it is the best science web site in the world
July 2001 The University takes possession of the Betty and Gordon Moore Library and the Faulkes Gatehouse
April 2001 Construction of phase 2 begins.
December 2000 Joint Infrastructure Fund announces a second grant for the new Centre, to construct the Ambient Flow Facilty, bringing our total award up to nearly 14 million pounds.
September 2000 Pure Maths leaves its old building in Mill Lane and occupies pavilion C.
July 2000 Official opening of phase 1 by HRH The Duke of Edinburgh
July 2000 First public lecture in the central-core common room (pavilion A).
May 2000 Pavilion A, the central core of the development containing a common room, cafeteria and lecture rooms, begins operation.
April 2000 Pavilion D, the new home of the Statistical Laboratory, is ready for occupation.
January 2000 Pavilion B, the first pavilion, is now in use!
---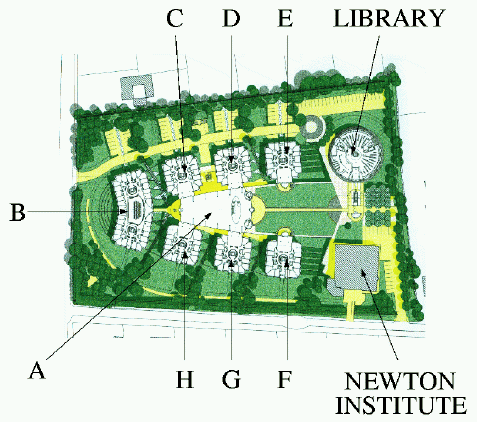 ---