FEBRUARY 1997
EDWARD CULLINAN ARCHITECTS
---
In August 1995, Edward Cullinan Architects were commissioned by Cambridge University to provide a master plan for the development of the seven acre site north of Clarkson Road in west Cambridge. On 23rd May 1996, they presented their original feasibility study to the University's Science and Technology Buildings Committee, which met with general approval. They continued the development of the scheme in consultation with the University, the Mathematics Departments and the City Planning Department. Since then, the original scheme has been reworked, away from a development which emphasised the qualities of the street, to a proposal which expresses the nature of a "parkland setting".
The site is currently an open field at the eastern end of which sits the Isaac Newton Institute. With the Institute's growing links to international mathematical research and with the potential for good quality work space in a building adjacent, there are considerable advantages to the two Departments of Pure and Applied Mathematics moving to a new integrated centre on the site. It is proposed also to establish on the site a major new science library. This will be the Betty and Gordon Moore Library, and will contain books and journals in the physical sciences, technology and mathematics.
This study is a development of the architects' original brochure produced for the competitive interview in July 1995. Before the interview, they were offered a tour of the two Departments, where they were impressed by a description of the nature of research. It was said that one often began with a vague answer and then tried to find a precise question. During their presentation, they emphasised the importance of a similar design process, allowing the architects to propose a number of hypotheses which could be tested and sometimes rejected in the approach to an answer.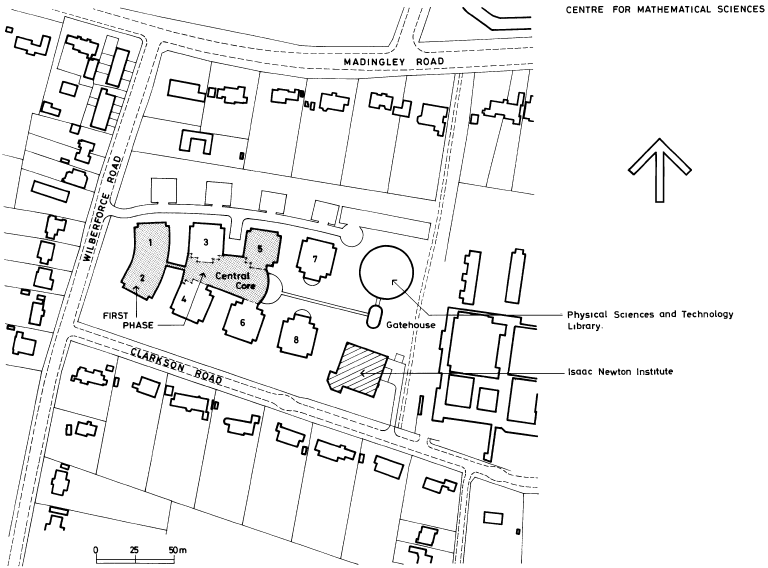 Copyright © 1998 The Chancellor, Masters and Scholars of the University of Cambridge.
---
CONSULTANTS
ARCHITECTS
EDWARD CULLINAN ARCHITECTS
STRUCTURAL/CIVIL ENGINEERS
BURO HAPPOLD
SERVICES ENGINEERS
ROGER PRESTON & PARTNERS
QUANTITY SURVEYORS
NORTHCROFT
LANDSCAPE ARCHITECT
LIVINGSTON EYRE ASSOCIATES
PLANNING SUPERVISOR
WSP
PROJECT MANAGER
DAVIS LANGDON MANAGEMENT